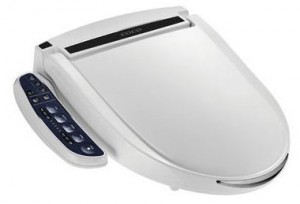 The Coco 9500x is Coco Bidet's latest entry into their growing line of premium bidet seats. The 9500x takes most of the good stuff, and puts it all together in a very nice looking seat.
A Bidet Toilet Seat Loaded with Features
What you will find: Some standout features including instant warm water (i.e. no tank, which means you'll never run out) , a deodorizer fan to keep the embarrassing odors at bay, an aluminum nozzle, and a thoughtful LED light to keep things visible in the dark.
You'll also find all of the standard items, like posterior wash, feminine wash, enema mode, and child mode. You'll also get adjustable nozzle position, water pressure (5 levels), water temperature, and seat temperature.
[Read more…]