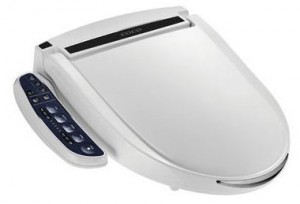 The Coco 9500x is Coco Bidet's latest entry into their growing line of premium bidet seats. The 9500x takes most of the good stuff, and puts it all together in a very nice looking seat.
A Bidet Toilet Seat Loaded with Features
What you will find: Some standout features including instant warm water (i.e. no tank, which means you'll never run out) , a deodorizer fan to keep the embarrassing odors at bay, an aluminum nozzle, and a thoughtful LED light to keep things visible in the dark.
You'll also find all of the standard items, like posterior wash, feminine wash, enema mode, and child mode. You'll also get adjustable nozzle position, water pressure (5 levels), water temperature, and seat temperature.

What you won't find: a wireless remote, programmable presets, or round size availability.
Overall, this is a feature-packet bidet toilet seat, and since its launch has been very popular. We know that Coco makes nice products, and this 9500x is no exception. Our only concern is that for the price, the 9500x bidet seat leaves out some features that you'll find on other, just slightly more expensive models, such as the Brondell Swash 1000, the Bio Bidet BB-1000, or the Coco 9500.
Features include:
Never Ending Warm Water
Enema Mode
Aluminum Nozzle
Heated Seat
Deodorizer
LED Light
Massage Function
Pulsation Function
Kids Function
Adjustable Water Pressure/Temperature
Posterior and Feminine Wash
Warm Air Dryer
Soft Closing Lid and Seat
Learning Energy Saving Mode
The Coco Bidet 9500x is available in white only, and only in elongated size. Please remember that due to this model's tankless water heating technology, it requires a dedicated 15amp electrical outlet, and can draw up to 1300 watts.