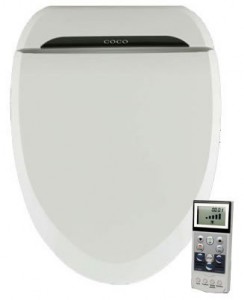 One of the most inventive and luxurious bidets in the market today is Coco Bidet 6035. It has almost all of the features of other highest quality bidets at a very competitive price. This state-of-the-art bidet can be installed on most all existing toilets, including one-piece toilets with a French curve.
The Coco Bidet 6035R is a full-featured bidet with a huge feature list. It has adjustable dual nozzle cleaning for both anterior and posterior regions. The Coco Bidet 6035R digital remote control allows you to adjust every function including water pressure and temperature, and even features a mode tailored for children.
The Coco Bidet 6035R massage and pulsation features provide comfort and relaxation. For those who suffer from constipation, the Coco Bidet 6035R has an ingenious feature called patented IIP (Intensive Impulse Pulsation).
View a video about the Coco Bidet 6035R
COCO Bidet 6035R features
Easy to install
Power save (economy) mode
Dual nozzle, single pocket system
Anti-bacterial nozzles and seat
Soft closing lid and seat
Gentle aerated water stream
Deodorizer
A built-in air pump and water purifier
Adjustable water pressure, temperature, and nozzle position
Two separate nozzles
Warm air dryer
IIP Function (Intensive Impulse Pulsation)
Wireless Remote Control – Digital Display
Splash guard
Occupied seat sensor
Easy cleaning and detachment
Oscillating Cleanse
Aerated Cleansing Function
Self cleaning
Quality approved by UL, CE
For anyone looking for the ultimate in bidet luxury, Coco Bidet 6035R makes an excellent choice for a cleaner and healthier lifestyle. This full-featured bidet seat is available in both elongated and round models.