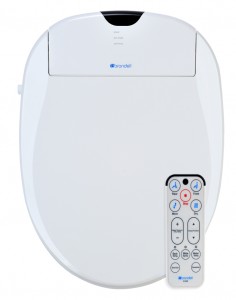 The Brondell Swash 900 Bidet is Brondell's mid-range bidet toilet seat, just under the top-of-the-line seat, the Brondell Swash 1000. The Swash 900 was released in late 2010, and features state-of-the-art technology that makes this a great choice for anyone.
The Swash 900 offers all the standard features, like posterior and feminine wash modes with adjustable water temperature and pressure. Add on dual stainless steel wash nozzles, instant (tankless) ceramic-based water heating (which means no running out of warm water), industry exclusive "Wide Wash Spray" (which covers a wider washing area than other bidet seats), and a heated, soft close seat. There's also an automatic "eco" power saving mode and a body weight sensor, so the seat won't function without someone sitting on it.
One of the biggest complaints about bidet seats is that the top lids aren't strong enough to sit on. Brondell addressed this complaint and designed the top seats of its 900 and 1000 models to support the weight of an average adult. This is a great feature, typically overlooked by most bidet shoppers.
Add a compact, totally redesigned and easy-to-use wireless remote control, and a solid industry-leading 3-year warranty, and you've got a seriously appealing bidet seat package. The Swash 900 is easy to install (Brondell claims it can be done in less than one hour), and comes in enough sizes and colors to fit 98% of all toilets.
The Brondell Swash 900 Bidet has the following features:
Posterior and feminine warm-water washes
Twin adjustable stainless steel nozzles
Water and seat temperature settings
Eco-friendly instant ceramic heating system for unlimited warm water
Water pressure controls
Aerated wash spray with width adjustment (3 levels)
Self cleaning nozzles
Intelligent body sensor
Wireless remote control
Stylish design and comfortable heated seat
"Quick Release" for easy seat removal and cleaning
Gentle closing seat and lid
Automatic power-save mode
One (1) year limited warranty
The Brondell Swash 900 Bidet ranks among the best bidet seats available today. Its available in White or Biscuit, and in either round or elongated sizes.