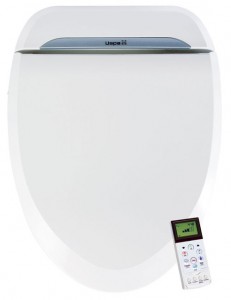 USPA (pronounced "You-Spa"), one of the most recognizable and respected names in the global bidet industry, has finally brought their flagship bidet seat to the United States. The USPA is a top-of-the-line electronic bidet seat both in terms of construction quality and aesthetics. From its attractive, piano black styling stripe to its classic beveled edges, the USPA toilet seat bidet is sure to impress your family and guests.
Using toilet paper to dry yourself is a thing of the past with the USPA 6800. The integrated warm air dryer has adjustable temperature and fan speed control. The integrated carbon filter based fan deodorizer is fully automatic and initiates when the seat is activated. The deodorizer continues to run for a full minute after the seat is vacated. It does not use fragrance to hide odor; instead, it comes with a semi-permanent-use "Catalystick" cartridge that neutralizes odors through active carbon filtration.
The child wash provides the softest wash imaginable, just the sort of gentleness you expect for your child. And, as a safety precaution, the seat sensor is automatically disabled during child operation. The USPA also comes with exclusive "Auto" function. With just a touch of button, USPA runs through cycles of each and every feature from washing to dry.
The USPA 6800 bidet seat features dual self-cleaning spray nozzles (for satisfying posterior wash and soft feminine wash) and a convenient, easy-to-use remote control with LCD window that allows for simple operation of all its luxurious cleansing and drying functions. The USPA has a heated seat, a constipation relieving IIP (Intensive Impulse Pulsation) enema function, and much more. The USPA is designed to provide a continuous stream of warm water that lasts for up to one minute. See below for full feature list:
Convenient Remote Control with Integrated Multi-Function Display
Powerful deodorizer with carbon filter
Exclusive IIP – Intensive Impulse Pulsation
Auto Smart Power Saving
Extra protections on electronic parts
Auto and Kids function
Heated Seat
Warm Air Dry with Far Infrared Ray
Built-in mash Filter
Hydraulic Seat and Cover
Safety Sensor
Self-Diagnosis
Wide Cleaning
Massage Cleaning
Quick Release for Easy Cleaning
Gentle Aerated Water Stream
Free Water Filter
The USPA 6800 is available in white elongated, or white round size and comes standard with a 1-year warranty. An extended warranty is also available.