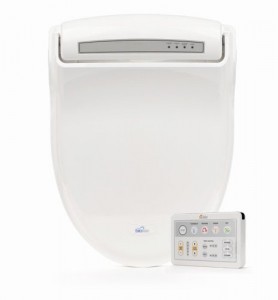 The Bio Bidet BB-1000 "Supreme" seat is undoubtedly one of the finest, most popular bidet seats on the market, and for good reason: it offers every important bidet seat feature at a more competitive price than any other manufacturer's similar offering.
The Bio Bidet's BB-1000's convenient remote control provides access to every important control without having to reach around to the side mounted control panel (the BB-1000 also has a miniature version of a side control panel  in case you don't have access to the remote). Aside from the standard posterior and feminine  nozzles,  the BB-1000 offers a useful enema nozzle, as well as both pulsating and oscillating massage modes available on all 3 nozzles. Of course, the warm air drier is included as is a useful integrated deodorizing fan which removes 90% of embarrassing odors.
With its state-of-the-art "smart power saving function", the Bio Bidet BB-1000 Supreme offers maximum power savings by turning itself off during hours of infrequent use.
Bio Bidet BB-1000 Supreme features include:
Convenient Remote Control
Carbon filter deodorizer to remove 90% of odors
Patended 3 nozzle, 1 pocket bidet system
Auto Smart Power Saving feature to help save on electricity bills
Additional protections on electronic parts
Quality checked and approved by TUV, UL, and CE
Heated bidet seat
Warm air dry eliminates the need for toilet paper
Built-in Water Filter
Hydraulic Seat and Cover for slow closing
Safety Sensor to ensure the bidet will only spray when sat on
Wide and Massage Cleaning
Quick Release for Easy Cleaning
Gentle Aerated Water Stream
The BB-1000 is available in either white or biscuit colors, and round or elongated sizes, and is simple to install.