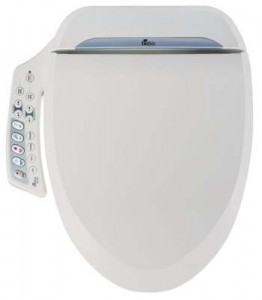 If you're looking for a high-quality, full-featured bidet seat without the full-featured price, take a close look at the Bio Bidet BB-600. Released recently to replace the older BB-500 model, the BB-600 offers nearly all the features of Bio Bidet's luxurious top-of-the-line BB-1000 model at a slightly more affordable price. The BB-600 ships without the BB-1000's wireless remote and unique "enema" mode, but does include wonderful features like dual nozzles ("posterior" and "feminine"), variable water, air drier, and seat temperature, variable nozzle position, soft-close seat. The BB-600 is constructed of anti-bacterial plastics.
Bio-Bidet BB-600 Bidet Features
Heated seat
Warm air day
Built-in water filter
Slow close hydraulic seat and cover
Safety sensor
Massage cleaning mode
Dual action nozzle
Gentle aerated water stream
External water filter included
If you're looking for the best mix of Functionality, Style, Performance and Affordability, the Bio Bide Bio-Bidet BB-600 Bidet is the perfect fit.
The BB-600 is available in white only, and comes in either elongated or round sizes.