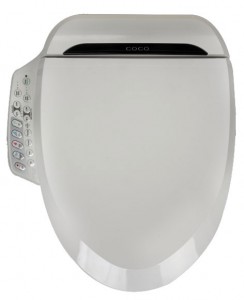 The Coco Bidet 6235 is the slightly more affordable model in the Coco Bidet lineup. Unlike the Coco 6035, the 6235 ships without a wireless remote. But even without the remote, the Coco 6235 is a full-featured, very high quality bidet seat that's simple to operate.
All controls for the Coco Bidet 6235 are conveniently located on the right side of the seat, easily within arm's reach. You'll find the standard issue feature list here, including posterior and feminine wash modes, adjustments for the water, seat, and air temperature, and even access to Coco's IIP (Intensive Impulse Pulsation) mode, which is similar to enema mode, but with a little more technology involved.
Coco bidets feature a unique "soft start" mode, which comfortably increases the water pressure so as not to shock the seat occupant with an immediate high pressure spray. Coco also included an aerated water spray, which results in a more comfortable way to spray your sensitive regions.
The Coco Bidet 6235 has the following features:
• Deodorizer Catalytic Filter that reduces bathroom odors
• A warm air dryer
• Heated seat
• Soft Closing, hydraulic, antibacterial seat and lid
• Occupied Seat Sensor
• Self Cleaning and Diagnosis
• Easy Detachable for Easy Cleaning
• Oscillating cleansing nozzles
• Splash guard
• IIP function (Intensive Impulse Pulsation)
• Intelligent Power Saving to save on electricity and water bills
• Adjustable water pressure, temperature and positioning
• Easy installation
• UL and CE Approved
If you're looking for a full-featured bidet with a reasonable price, the Coco Bidet 6235R is an excellent choice. The 6235R is available in cotton white or Sedona beige, and comes in either round or elongated sizes. Installation is so simple, it doesn't even require tools.