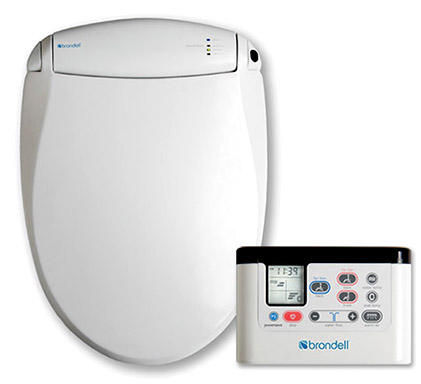 **The Brondell Swash 800 has been replaced by the new Swash 1000**
The top-of-the-line Brondell Swash 800 Bidet is Brondell's most luxurious bidet toilet seat. It builds on the features of its younger brother, the Swash 550, and adds a gorgeous and captivating (seriously) auto-sensing night light, a wireless remote, an energy efficient power-saving mode, and a solid 3-year warranty.
With its graceful looks, exceptional comfort, and numerous eatures, the Brondell Swash 800 Bidet is the ultimate in bathroom comfort, hygiene, and technology. Its "endless warm water wash" supplies an unlimited stream of filtered, heated water for comfortable, clean warm-water washes.
The Brondell Swash 800 Bidet has the following features:
Feminine and posterior warm-water bidet nozzles
Water and seat temperature settings and adjustable pressure controls
Adjustable Contoured, stylish and heated seat
Gentle-closing seat and lid
Wireless remote control with LCD
Warm air dryer
"Quick Release" for easy seat installation and removal
Space-saving, comfortable design
Anti-bacterial seat
Auto sensing nightlight with pleasant blue glow
Advanced programmable power-savings mode
The Brondell Swash 800 Bidet is an excellent product, and is among the best bidet seats available today. Its available in White or Biscuit, and in either round or elongated size.
Brondell Swash 800 Bidet Seat
$357.81
Brondell S800-EW Swash 800, Elongated, White
$389.38
Brondell S800-RW Swash 800 Toilet Seat System, Round, White
$443.12
Brondell S800-RB Swash 800, Round, Biscuit
$595.00
Brondell Swash 800 High Tech Toilet Seat – Round, White
$595.00
Brondell Swash 800 High Tech Toilet Seat – Elongated, White
$598.00
Brondell S800-EB Swash 800, Elongated, Biscuit