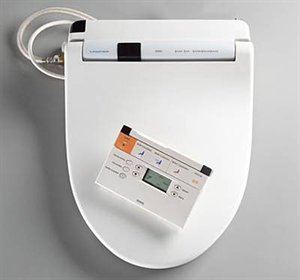 If you're looking for the ultimate bidet seat, then look no further than the Toto S400, Toto's "first intuitive Washlet". Make no mistake, this is a supreme seat, and you'd be hard pressed to think of a feature that Toto omitted.
The most notable and interesting features include an automatic, hands-free flushing system and a sensor-activated lid that automatically lifts as you approach the toilet and then lowers as you walk away. The convenient and comprehensive remote control offers you effortless control of all main features of Toto's most luxurious Washlet ever.
The Washlet S400 features include:
Auto Flush Activated by Sensors or the Simple Touch of a Button
Automatic Open / Close Lid Activated by Sensors, or the Simple Touch of a Button on the Remote Control
Gentle Aerated, Warm Water, Dual Action Spray with cycling movement and massage feature
Front and Rear Washing
Massage Feature
Warm Air Drying with Variable Three-Temperature Setting
Automatic Air Purifier
Heated Seat with Temperature Control
Convenient Wireless Remote Control with Large LCD Panel
Docking Station for Easy Cleaning & Installation
Cleaner, Sleeker Look
Reinforced Base Plate for Enhanced Durability
The Toto S400 Washlet is available in 3 colors: Cotton, Colonial White, and Sedona Beige. It is offered in either elongated or round sizes.
Be sure to check the complete Washlet Compatibility Chart before ordering.