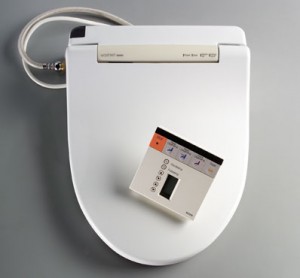 The Toto S300 Washlet offers an amazing set of features, and is a significant upgrade from its less expensive siblings. Toto took the best features of the E200, and then added even more great features, including the "Soft Cleanse" mode, a "plusating cleanse" mode, a water/nozzle position adjustment, and an integrated air purifier to filter unpleasant odors before they escape into the room.
Another major upgrade offered by the S300 is the on-demand water heating system. Unlike the E200 and C110 (which must keep a tank of water warm all day, using additional power), the S300 heats water when its needed. This translates to reduced electricity consumption and a virtually unlimited supply of warm water.
Toto S300 Washlet Features:
Gentle Aerated Warm Water
Front and Rear Washing
Massage Feature
Flexible water temperature and volume
Mild Aerated, Warm Water, Dual Action Spray with cycling movement and massage feature
Warm Air Drying with Variable Three-Temperature Setting
Automatic Air Purifier
Heated Seat with Temperature Control
Convenient Wireless Remote Control with Large LCD Panel
Docking Station for Easy Cleaning & Installation
Reinforced Base Plate for Enhanced Durability
New, cleaner look highlighting hidden cord design
Soft-Close anti-bacterial seat
The Toto S300 Washlet is available in 3 colors: Cotton, Colonial White, and Sedona Beige. It is offered in either elongated or round sizes.