**The Brondell Swash 550 has been replaced by the new Swash 900**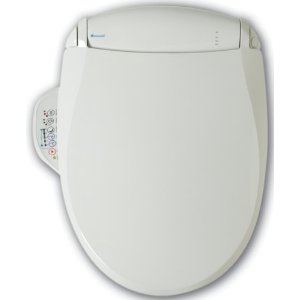 Unlike many other bidet models that keep a tank of water continuously heated, the Brondell Swash 550 (and its big brother, the Swash 800) features on-demand water heating technology, or "endless warm water", as Brondell likes to call it. This feature means you'll never run out of warm water. Other standard features include a heated seat, dual wash wands, and an intuitive side-mounted control panel. The 550 is nearly identical to the more expensive 800, though it lacks the illuminated seat (nightlight), wireless remote, eco power save mode, and comes with only a 1-year warranty versus the 3-year warranty offered on the 800.
The Brondell Swash 550 Bidet Seat also features:
Feminine and posterior nozzles for hygienic purposes
Power LED indicator
Space-saving design for maximum comfort
Water and seat temperature settings
Water pressure controls
Contoured, heated seat
Sturdy lid Elegant side-mount controls
Quick Release" for easy seat removal
Germ-resistant seat
Gentle-closing seat and lid
Reduces toilet paper consumption 50-100%
1 year limited warranty
The Swash 550 is offered in White only, and comes in either round or elongated sizes.